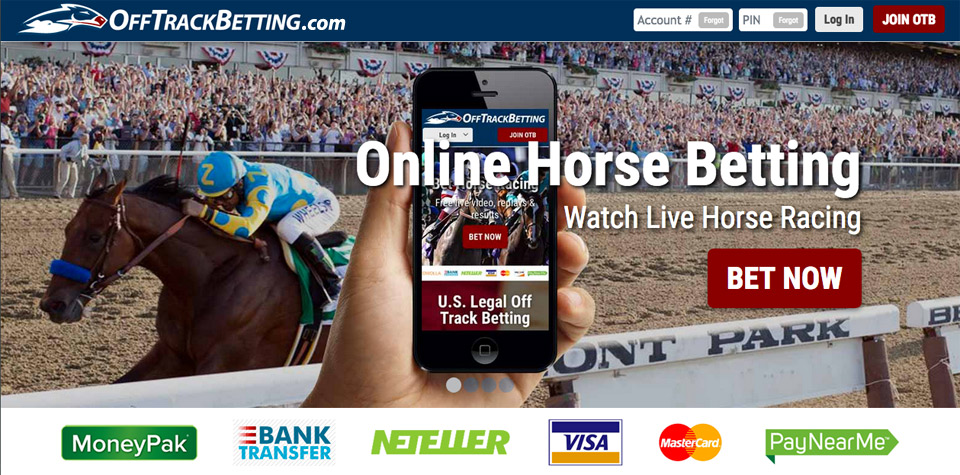 OffTrackBetting.com.com ranks at the top of Account Wagering sites recommended by Horse Wagering for betting on both Horse Racing & Greyhound Racing! Quick account set-up, access to essential handicapping tools, live race video, race replays, easy deposits and quick payouts make OffTrackBetting.com a good choice for the beginning horseplayer and experienced handicapper.
What makes OffTrackBetting.com the Best Online ADW?
Most of the major online account-wagering services (TVG, TwinSpires & XpressBet) are all equipped with many of the same features as OffTrackBetting.com. Some of them even traditionally run a few more contests than OTB does. However, most of what we are concerned about over here is not winning contests once in a blue moon. We are concerned about the "value" we get every day from doing what we love to do - bet horses!
How does OffTrackBetting.com supply this "value?" From their Daily Cash Rewards ( Horse Racing Rebates )! A "rebate" is a cash reward paid on the wagers you make, win or lose. The amount of the reward will vary by track and by bet type. Even after a short period of time a horseplayer can quickly realize the advantage a quick cash return on your bets provides to you the player, as well as to the tracks with increased handle.
OffTrackBetting.com Reward Program Specifics:
Earn Daily Cash Rewards on your bets - win or lose.
Cash Rewards - No silly point system with expiration dates.
Cash Rewards can be used for future wagers or be withdrawn as cash.
Apply to both Horse Racing & Greyhound Racing.
If you are not getting horse betting rebates where you are wagering horses now, or if you think your current rebates could be higher, please open a free Horse Wagering account today!
OffTrackBetting.com Features
Legal, safe and secure betting for U.S. residents.
Offers a generous $100 sign-up bonus to new players.
High quality live streaming video of every race.
Watch every race live on your desktop, tablet or mobile device.
Wide range of deposit options with fast and easy payouts.
One of the largest selection of both horse and greyhound tracks.
The biggest tip: We can't say enough good things about OffTrackBetting.com when it comes to online opportunities for horse bettors. If you're looking for a trustworthy place to bet on horses, sign up OTB and watch your inbox for great offers.